During one of my more recent visits to Finland, I joined a friend of mine who teaches at a boarding school in central Finland, in the small town of Aitoo. It's one of the few boarding schools for 7-9-graders. It's private, but the funding for the students comes from the state. My friend had spent long years of training, studying and exams before she could become a teacher – but now she says it's all been totally worth it. Because teachers in Finland are among the highest paid professions, they're raised on a pedestal, almost worshiped. And for a good reason.
Finland has turned education into a cult. And here I'm not talking of standard, conventional theoretical education, but just on the contrary – they're focused on preparing the kids for real life in the real world. So it's no surprise that Finland now ranks 1st in the world in literacy (according to PISA data), 2nd in the EU in the natural sciences, and 3rd in maths. There's a good reason for their tremendous progress in the last few years, and I was fortunate to witness their teaching process with my own eyes and see how they've methodically worked for this achievement.
While my friend, let's call her Mikaela, was testing the students on their knowledge in History, in the next classroom Finland's political structure was being discussed, in between playing sudoku, and casually chatting about hunting (which a couple of boys said was their fave hobby). Outside in the yard, another class were having a boot-throwing competition; and my friend the teacher was about to leave her class soon and go to the library, where a bunch of other pupils were waiting for her to come so they could start using her as a model to paint their face with dyes, and then challenge her to guess which cartoon character they've turned her into. After all this, everyone would head for the canteen, where they'd get acquainted with the various herbs and spices and their specific scents. But not before they've had a brief stop at the Literature room, where they'd first have to put pins into a huge wall tapestry, linking popular book characters to the respective authors who created them.
Yeah, that's how the typical day at the Anna Tapio school in Aitoo would proceed, I was told. Except, the second half of that day was going to be a special thematic day, which happens once annually, and is entirely organized by the students themselves. That's what I was actually invited there for, along with a few parents who were curious to see what the little ones had come up with this time. The kids had worked hard for weeks prior to that day, inventing tests, thinking of questions, quizzes and challenges which their fellow pupils, the teachers, and those parents who had decided to come, would then have to solve, grouped into teams. The game didn't truly have a competitive character because there was no winner or ranking – what mattered was that it would develop team skills and the ability to handle the responsibility of having control of the situation in one's own hands. So the students would put their teachers in various roles, on equal footing with the other students, and no one would know the correct answers to the quizzes but the ones who had invented them.
Now, Anna Tapio is one of the few private schools in Finland that are not directly governed by the municipalities but by private organizations. Funding the teaching process is still provided by the state though (10,000 euro per student annually), and the parents still pay for some additional services (in this case, a dormitory hosting the students on workdays, 5 euro a day). The school also gets funds from a private foundation. In Finland the entire education, including universities, is completely free, which includes all school books (in elementary and secondary school), lunch, health care and transport. Private schools need a permit for operating, they have to answer specific criteria to keep their license, and they all have to comply with the nationwide education curriculum, which sets the end goals of the whole education process but provides a lot of autonomy to be flexible within that framework.
There are students from grade 7 to 9 at this particular school (elementary school ends at grade 9 in Finland), which makes it the only school in Finland within that age range. Entry into this school is based on the report on the student's achievements in grade 6, plus an assessment of their behavior, jointly made by their previous teachers and peers. Many of them apply for Anna Tapio to enhance their transition to secondary school. Right now there are about 220 students there, and a few years ago that number was about 300. There's huge competition from other schools, because most schools in Finland are in fact quite excellent. Municipalities invest a lot into education, but not just by pouring money into a system – they prefer to focus on improving the quality of education, making it flexible and adequately corresponding to the modern realities. Finland has turned education into its top priority. A lot is also invested into social work: every public school has psychologists, social workers and student's advisors. The municipalities also fund the transportation for students, and those living further away have school buses available for them, regardless of the distance, their number, or the road conditions (winters could get very harsh in Finland).
It's a small country, of course – I know this would be used as an argument by the "but this can't happen here" crowd. It's also a very homogeneous and coherent society, a nation that has preserved its identity despite lots of hardships throughout history (or maybe exactly because of them). It has preserved its unique language which is spoken only in that country. The Finns, much like their other Nordic neighbors, have learned that the best way to prosper is to work together, show solidarity, be united, and work hard to achieve happiness. In other words, to harness the full potential of every member of the group for the betterment of everybody else. This principle is at the basis of the success of their education system as well – and it's hardly a surprise that Finland consistently ranks among the topmost segment in terms of literacy, education, rational thought, innovation – and yes, social equality, too. In a sense, Finland has achieved what's called the "American dream", because everyone truly gets a real chance for success, regardless of their social and economic status (something that cannot be said about America herself). And the second factor is the preparedness of their teachers – which is an immensely long and hard process that in truth goes on forever – but in return, teachers have an amazing level of autonomy to experiment and be flexible in class.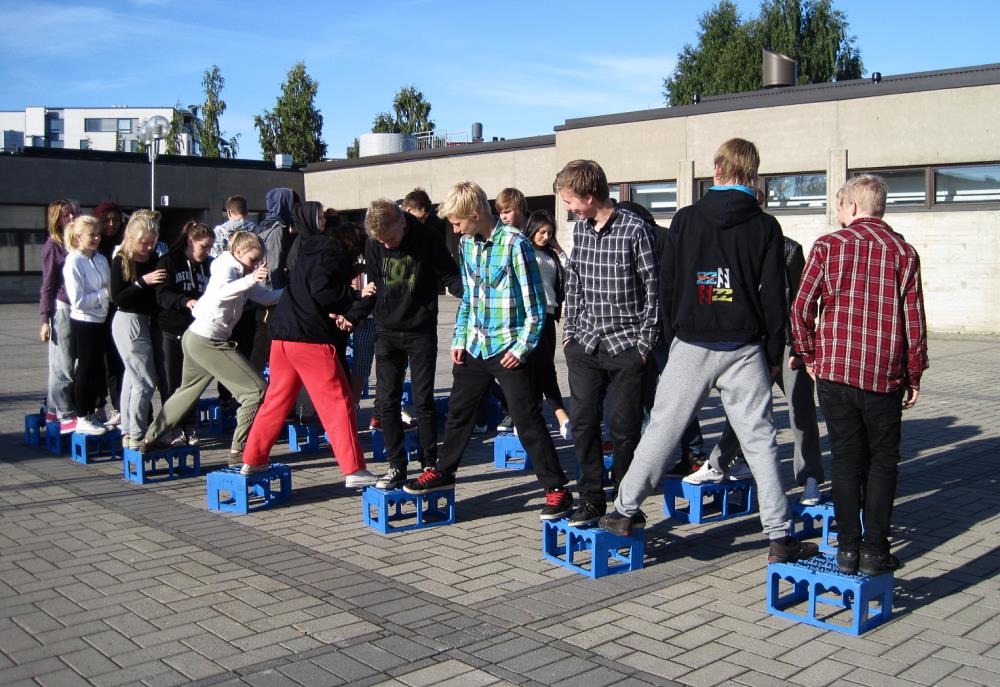 So here's how an ordinary day proceeds at Anna Tapio. Classes start at 9 a.m. with sports at the gym, where all students are gathered with their teachers and the rest of the school staff. "You have to meet all the students and say Hello, it's important that you first see each other", a colleague of Mikaela says (a teacher in Swedish and German). Swedish, by the way, is compulsory because of the Swedish minority in Finland, and because of the fact that the two countries are "important neighbors".
In recent weeks, one of the most discussed topics at school has been the election of Donald Trump in America. The students spend time discussing his messages, the performance of his opponent Hillary Clinton, and the possible consequences of the election outcome. "I don't think the Imperfect Tense of the German language is as important as discussing what's happening around the world", the German teacher said. "It's far more important to motivate the students to think, to develop social skills, and to be good people".
Mikaela seconded that opinion. The latest task she had given her class was to follow the media, and choose one international and one local piece of news, then work in teams to analyze what had made the biggest impression on them in the way the events were being reported. This is an exercise in free speech, and a study of the structure of news blocs and the way the media works – which is actually part of the curriculum for grade 8. Mikaela told me a pupil had asked her if they should explore the yellow press as well. She admits this had given her pause, and she had told the pupil that on one side, the yellow press is too often used for propaganda and disinformation, but on the other hand, it's a fact that it's also part of society and it participates in the public discourse, so taking it out of the picture wouldn't be fair.
After their first presentation, the teacher had asked the students how they felt while discussing the topic, and whether they believed they have performed well (i.e. self-assessment), then she had started a discussion with the whole class in order to get proper feedback. The opinions of the other class-mates would then influence the marks she may've planned to give. For example, the girl who had asked about the yellow press, despite not performing particularly well in the presentation due to her shy character, was propped up by her class-mates because of the courage to stand up before them all and give an honest assessment of the issue at hand. "She really did have a lot of interesting things to say on the matter", one student had said.
Another student, who didn't participate in the discussion at all, was sincere enough to admit he hadn't watched any news, but at least he hadn't impeded the others' presentation with unsubstantiated opinions he would've been unable to support with facts. That honest self-assessment had also been rewarded. Mikaela says she gives various tasks to the students, so that those who feel uncomfortable or disengaged from certain topics, could then flourish in other discussions. What matters is that everyone takes part in the assessment of their peers, and the evaluation process is completely transparent, and everyone understands how it works. The idea is that everyone should feel free to display their full potential, and improve in their weak areas with the help of others. Again, we're talking of the team culture that's so inherent to Nordic societies.
Equal access to high-quality education is considered key for societal development in Finland. Apart from having a completely free education system, that country doesn't have entry exams for any school, and specialization begins relatively late, in grade 10. There's no nationwide standard testing until the very end of school education; instead, the National Board of Education selects several schools every year, whose students would hold exams on certain subjects, and the results are only shared with the particular school, so they could see where they stand in the overall picture, and where they need some improvement.
If a student needs more lessons to catch up with the rest, the teachers are given extra funds from the school budget to help them individually. Some students work by individual programs, prepared together with their parents and the student's advisor. There are very few disabled kids in Finland who are segregated in separate groups – the vast majority of them study alongside the rest. The purpose is maximum integration. For instance, in this school there was a student who was blind, but with the help of a computer and a personal assistant, he was able to fully keep up with the rest. "It's good that the other students can see that their peers who have difficulties or special needs, are actually no different from them", the deputy-principal said during the teachers/parents meeting at the end of the school day. As for the students who get ahead of the rest, every teacher has the personal autonomy to choose specific ways of further developing their skills in an optimal way.
Students are not given too much homework to torture themselves with during off-school time. They've focused on a different approach, not learning things by heart and reciting them like a parrot in front of the whole class. Instead, they mostly teach each other. Actual teachers are viewed like coordinators and facilitators, rather than mentors. Their main goal is to help each student, in accordance with their individual skills and inclinations, to find their own way of learning. They don't insist that there should always be a competition between students. They don't view education as a zero-sum game of winners and losers. Instead, they strive to encourage better results by convincing the students that the idea is to compete with oneself, overcome difficulty, and employ one's best sides in the process, possibly with the help of others – and yes, self-evaluate honestly and openly. The goal is to teach skills that prepare the youngsters for life in the real world – not so much facts, names, or historic dates.
This approach to education goes through building mutual trust with the school staff. In Finland, the school, the principal and the teachers have a lot of autonomy to take decisions on the cirriculum, the budget, the choice of employees. The teachers are free to choose their own methods for teaching and their preferred structure of the lessons to match the specifics of their particular class best. The principal has to be trained in pedagogy, but also in management, and they've got a financial advisor beside them. There are no term limits for school principals, but in any case, the work is quite complex and responsible, and there's always huge competition for the spot.
Mikaela told me that she and most of her colleagues usually work for 20 hours a week, and they get paid extra for each hour beyond that. They often have the opportunity to travel on work trips abroad to share experience with teachers from other countries. Although their salaries are very high (and we're talking about Finland here), their main motivation comes from the students themselves, and from the feeling that they have the ability to contribute to shaping up good members of society if they do their job with love and dedication, in a sane and sensible way. So you'd often find them working outside of their work-time, meeting with students outside of school, organizing drama classes, or mock elections or trials, and all in all, further developing the kids' ability to talk, listen to each other, express their opinions, and work together in a team. As I was leaving that school for example, Mikaela was preparing to start an evening training program together with her Labrador and a bunch of disabled students, where they'd train each other how to work with a guide dog.
What struck me the most was that there are no marks in Finnish school, no class books to write evaluations in, not even paper school-books or notebooks of any sort. There's an online system where anyone could write what's been happening in class, or just add some impressions and opinions. As the deputy-principal said at that meeting, no one ever goes around school to check if the teachers are working, how they're working, if someone is absent from class or coming late to school. "If there's a problem, the students themselves would come to me, write me an email or call me about it".
The following words that I heard from my friend summarize the whole thing pretty cogently, I believe: "A school is just as good as its team is". And by "team", I'm pretty sure she didn't just mean the staff who are employed there.
Source: Talk politics.
comments powered by HyperComments