Freedom party's Norbert Hofer congratulates independent rival Alexander Van der Bellen and says he is 'endlessly sad'
The rightwing populist candidate for the Austrian presidency has conceded defeat and congratulated his Green-backed independent rival on winning the election.
In a Facebook post published shortly after the first exit poll, Norbert Hofer of the anti-immigration Freedom party said: "I congratulate Alexander Van der Bellen for his success and ask all Austrians to pull together and work together."
The 45-year-old said he was "endlessly sad" and "would have liked to look after Austria".
According to the public broadcaster ORF, Van der Bellen had gained 53.3% of the vote with 69% of voting districts counted – too strong a lead to be turned around by Hofer, who had 46.7% of the vote.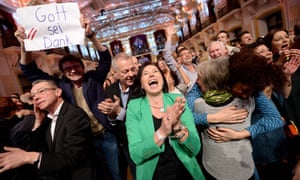 Van der Bellen's supporters celebrate in Vienna, one holding a sign that reads 'Thank God'. Photograph: Roland Schlager/AFP/Getty Images
[OP: I think the sign is referring to Hofer's election posters with the criticised slogan "So help me God".]
Hofer also narrowly lost the first runoff vote in May, which was later annulled. In that election, 50.35% of the population voted for Van der Bellen and 49.65% for Hofer. In May, 72.65% of the eligible population had turned out to vote, though experts expected turnout to be lower this time around given cold temperatures and a widespread voting fatigue after almost a year of campaigning.
Austria's constitutional court annulled the May result in July after an investigation revealed irregularities in the count of the vote in several constituencies.
While the court emphasised that there was no evidence of the outcome of the election having been actively manipulated, the confirmed irregularities had affected a total of 77,926 votes that could have gone to either Hofer or Van der Bellen – enough, in theory, to change the outcome of the election.
With officials under clear instructions not to cut any corners to avoid another embarrassing recount, many experts had expected that a definitive result would not emerge until Monday, Tuesday, or possibly even Wednesday.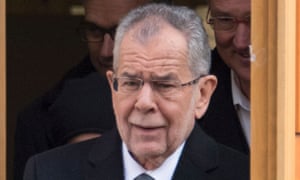 Alexander Van der Bellen leaves a polling station after casting his vote on Sunday. Photograph: Joe Klamar/AFP/Getty Images
More than 10,000 voting booths had opened across the country on a clear but cold day at 8am.
The Freedom party candidate and his wife, Verena Hofer, had cast their votes in his hometown of Pinkafeld in Burgenland, the easternmost and least populous region of Austria. "I am calm and confident," he told the press outside the voting booth.
Van der Bellen and his wife, Doris Schmidauer, voted at around 11am at a school in Vienna's Mariahilf district, telling journalists that he did not expect a clear result until Monday.
Source
*happydance* I'm so relieved, I was mentally prepared for Hofer and now this! 🙂
Source: ONTD_Political
comments powered by HyperComments